Color Chart MAGIC METAL

---
Call Now John NYC (973) 668-1079 Erik FL (352) 573-8861
Email: nightclubs@displayez.com
How to install Magic Metal.pdf How to install Magic Metal Click on PDF file
Magic Metal Covering is a state-of-the-art breakthrough in the Commercial/Retail Design, Graphics Flooring, Wall Covering, Fixture, POP and various other industries.

The covering is available in up to 20 colors and up to five patterns. "What makes it unique is how alive it becomes when different lighting effects are applied. Some colors give the illusion of water flowing, ice melting or fire burning".
Magic Metal is sold on rolls 24" wide by 100' - 500' lengths. The thickness is .015".
Graphics can be applied via silk screening, solvent ink or vinyl transfer.
Sample Roll 150' Length All rolls are 24" wide.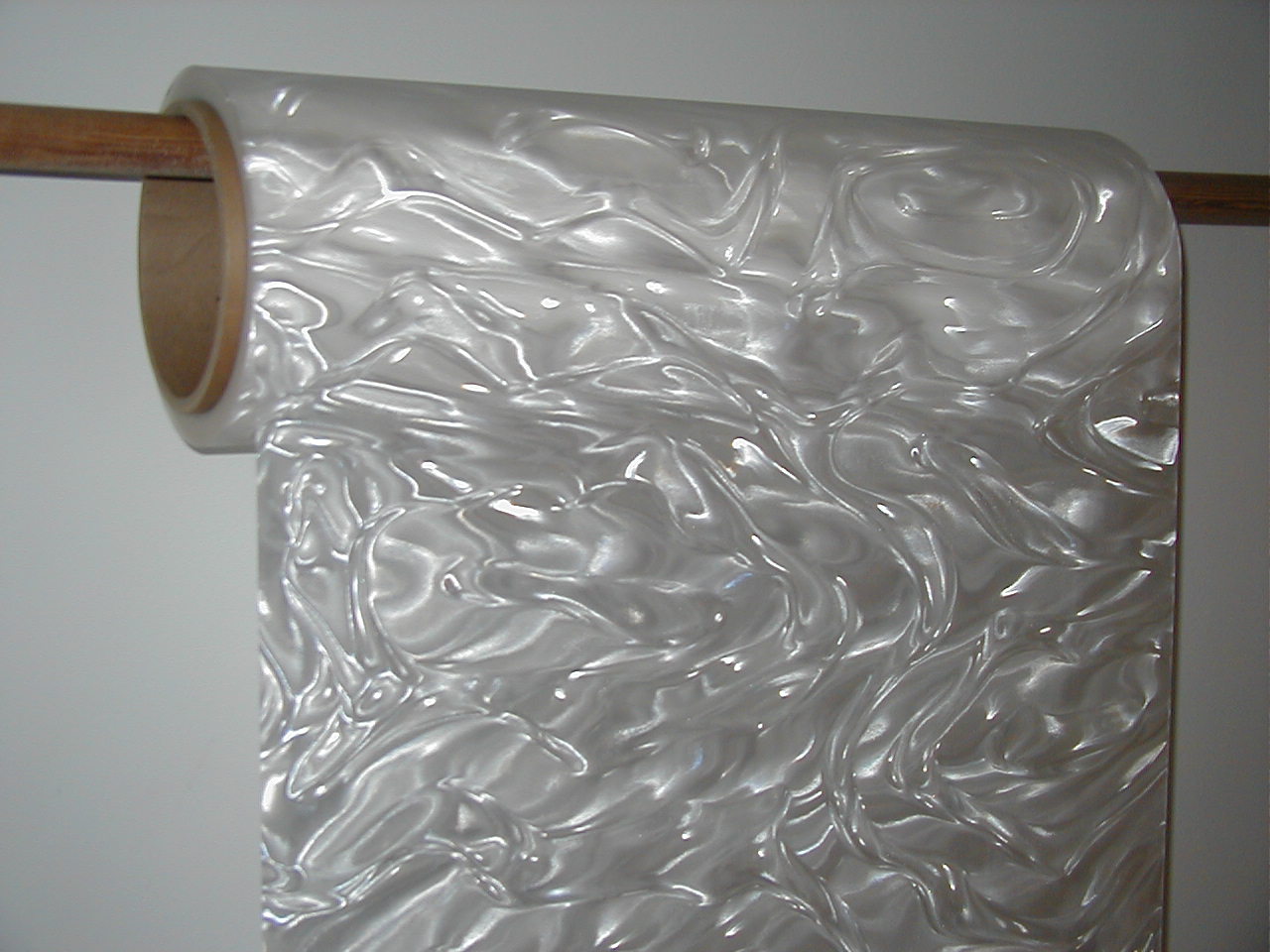 Sample application party bus interior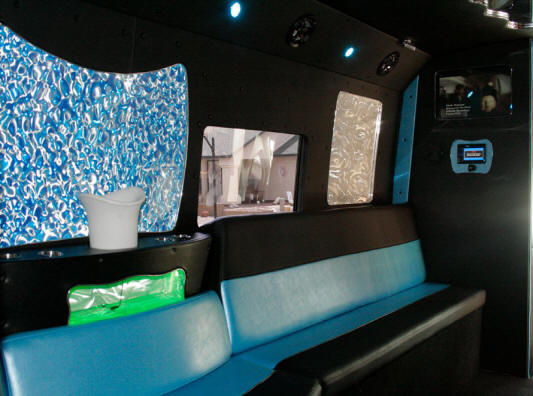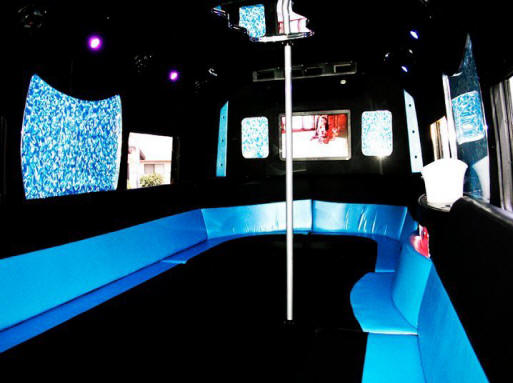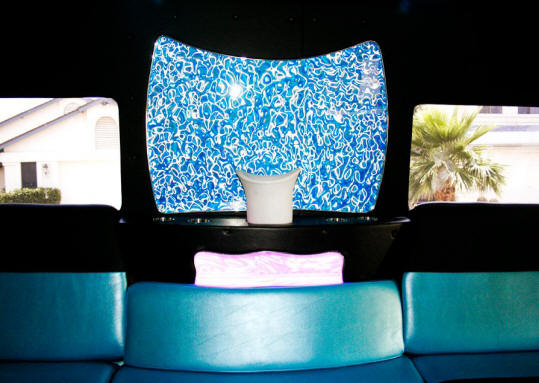 Bar Front in Big Bubble Blue/ Chrome
Colors
Red/Chrome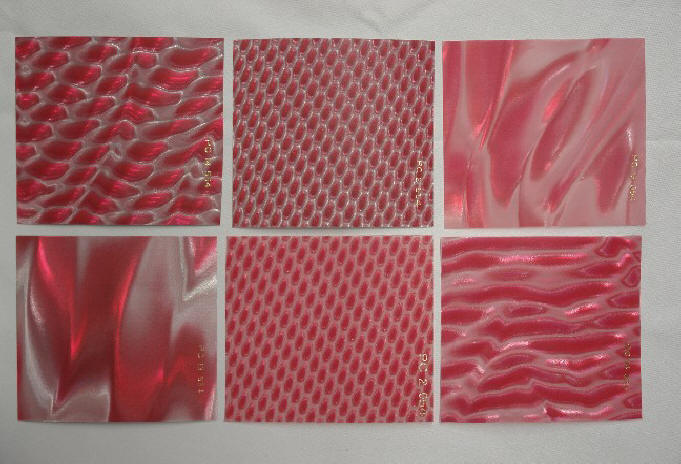 Red/Blue
Red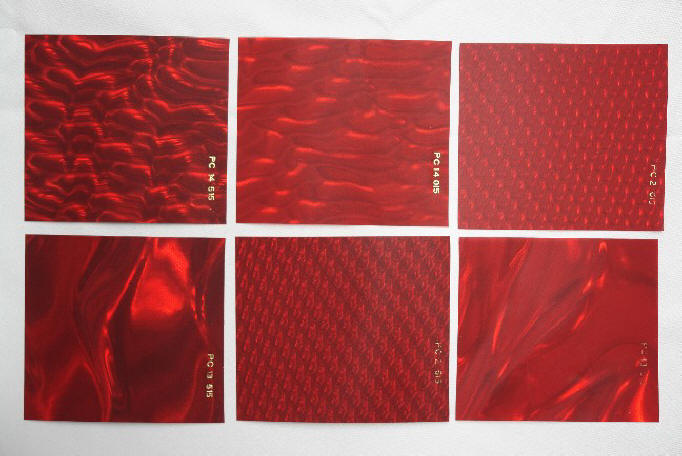 Purple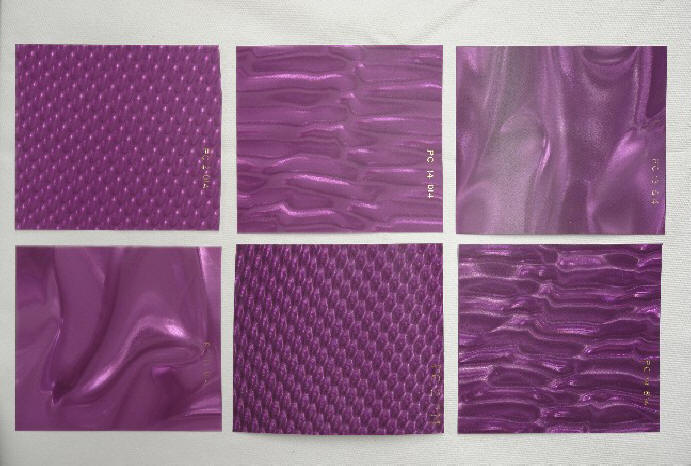 Aqua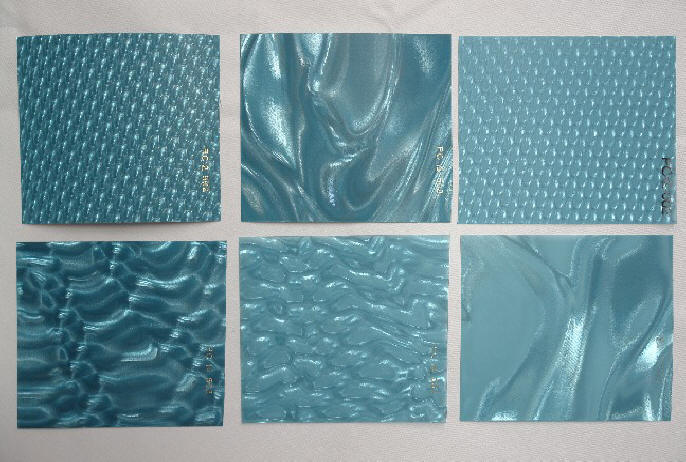 Med Blue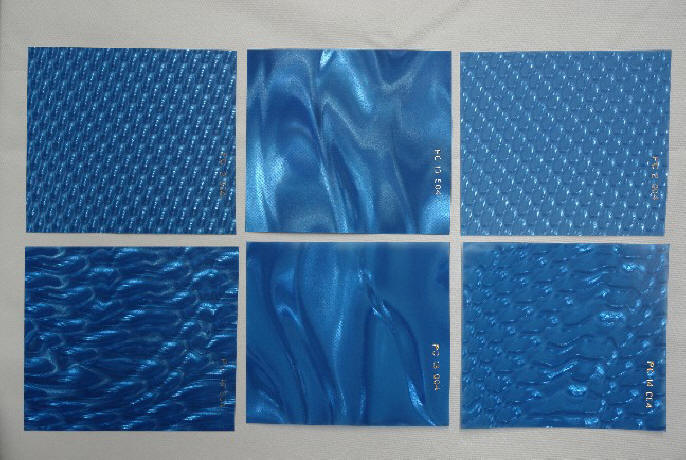 Dark Blue
Blue/Red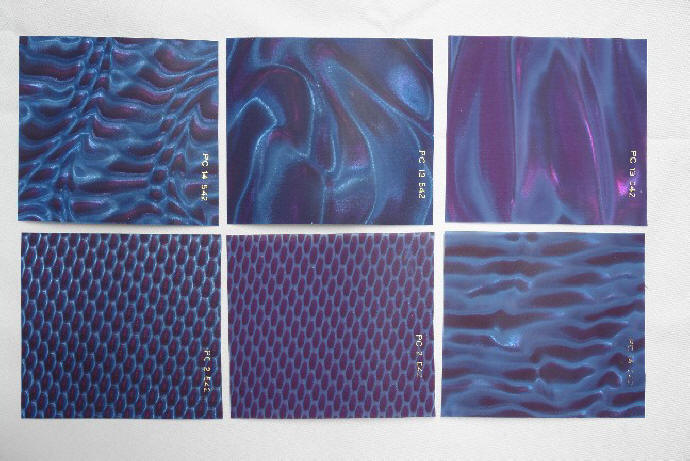 Lime Green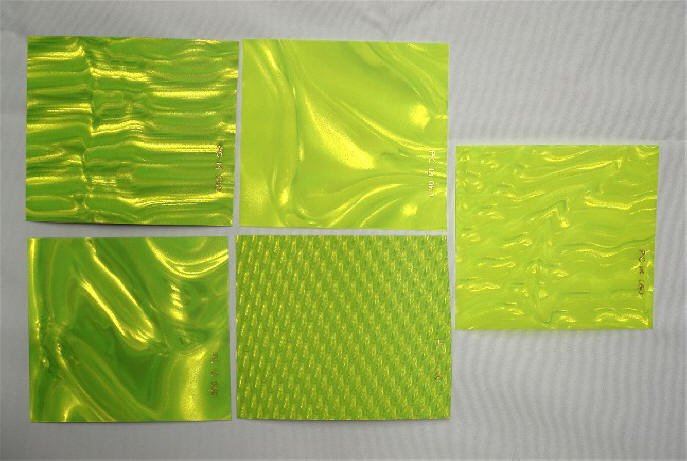 Hot Pink
Green
Green/Yellow
Green/Chrome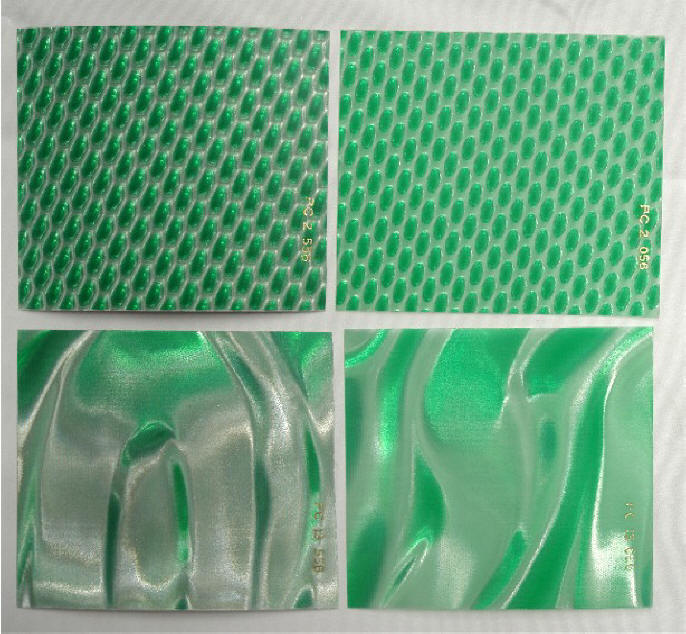 Gold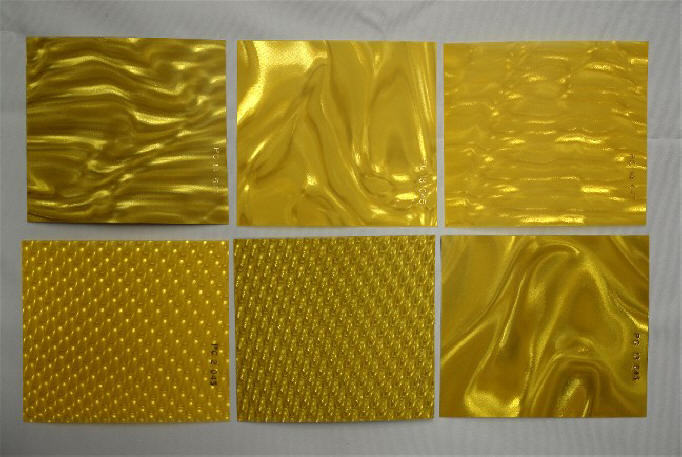 Flame
Black
Yellow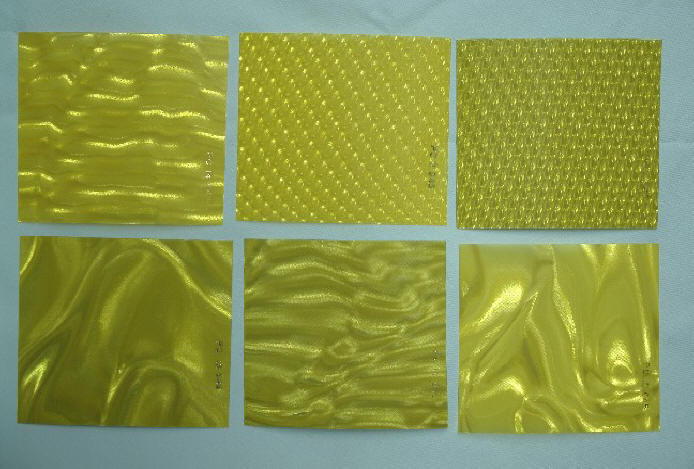 Silver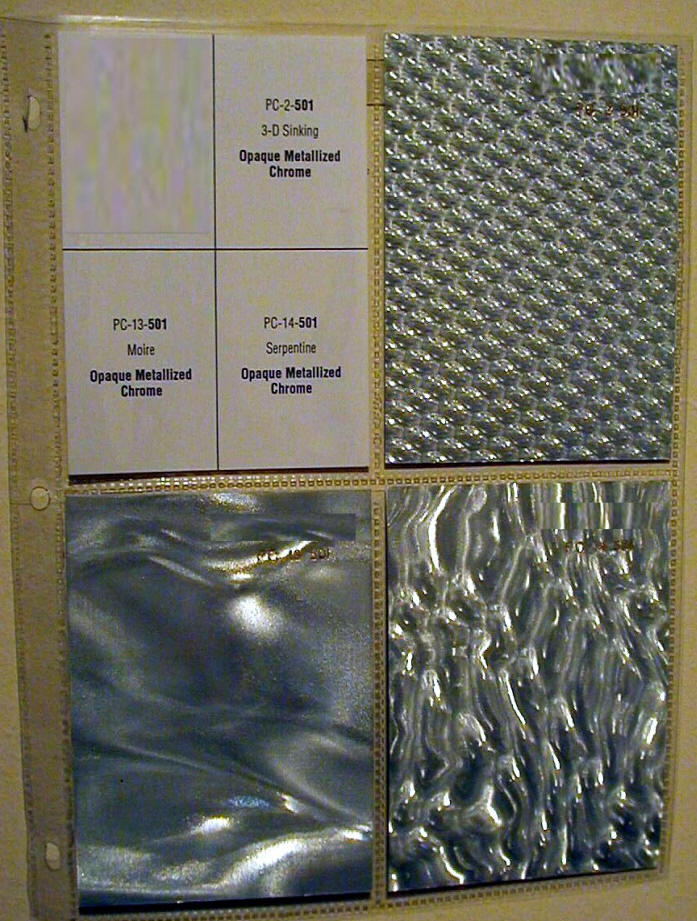 Horizontal Pattern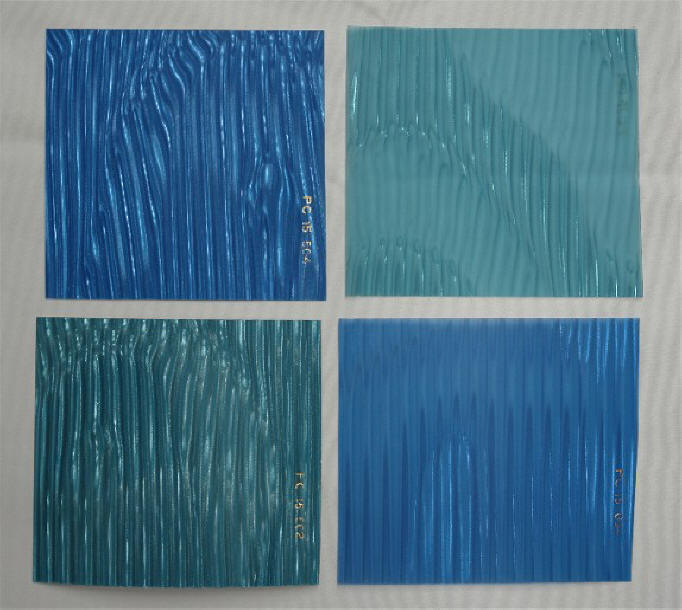 Large Bubbles Pattern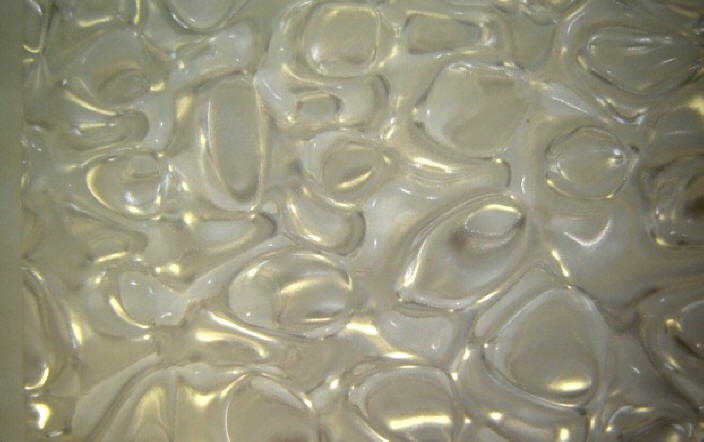 Adhesive Information
Magic Metal is frequently bonded to various substrates for many distinctly different applications. All applications have specific performance requirements that can be achieved by selecting the right adhesive to do the job.
In general, Magic Metal recommends only water base type adhesives for bonding opaque (back coated) Illusion Flex. From information provided by our customers, coupled with some testing done at CNC. water base ethyl vinyl acetate (EVA), polyvinyl acetate (PVA), pressure sensitive and contact adhesives work well when bonding Magic Metal to wood, drywall, plywood, plaster, medium density fiberboard and other similar materials. When bonding this material to other substrates such as plastics, fiberglass, etc., these above-mentioned adhesives plus a properly selected epoxy type adhesive could be made to work well. It is recommended that you contact your local adhesive distributor/supplier to obtain samples of these and other adhesive types. We strongly suggest that tests/trials be conducted by the user to insure the suitability of the adhesive selected prior to producing salable product.
Regardless of the adhesive type selected, it is essential that both surfaces are free from dirt, grease, moisture or any foreign matter that may inhibit bond strength and the adhesive manufacturers recommended procedures be followed. Below is a list of selected adhesives that have been tested or used in production to bond Magic Metal to various substrates. There are undoubtedly many other adhesives not listed that would be suitable for bonding Magic Metal.
| | | |
| --- | --- | --- |
| Adhesive Type | Manufacturer | Name/Part Number |
| PVA | Franklin International | AB |
| Pressure Sensitive | 3M | 9485 PC |
| Contact Cement | 3M | FASTBOND 30-NF |
| Contact Cement | National Starch & Chemical Company | BONDMASTER-40-0881 |
Magic Metal Material Data Sheet.pdf